Welcome to Joel Shapses Studio
and the diverse creations of Joel Shapses.
Joel Shapses Studio was created in August of 1995. Its purpose is to serve as a market place for high quality fine art and crafts at affordable prices  Architects and Designers use the imagery of Shapses' sculptures, illuminated with fluid neon or releasing vision from the power of stone to enhance both the exteriors and interiors of commercial and residential Structures. Public Forums, Libraries, Museums and Entertainment Venues are enhanced by the presence of sculpture by Joel Shapses. Discriminating clients and their designers choose the sensuous abstracts and natural interpretations of the artist to embellish their homes, luxury yachts and workplaces.
Joel's Sculptures can be viewed and purchased at his studio and showroom at 6240 Shirley ST Suite 102 Naples, FL 34109. You can also contact the artist directly to view his sculptures in other locations including his studio, by calling 954-830-3156.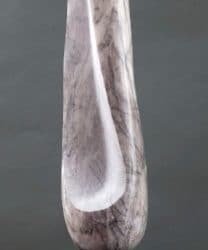 My inspiration for this work came from my recollection of past studies when I was pursuing my career as a dentist.  Much of the training dealt with theories and ideas about how organisms develop.  Unbeknownst to me at the time, this core learning would later influence...
read more